Railcar Products
Your Single-Source Rail Solution 
INPS provides a North American-wide mobile crew to complete any installation on rail and freight cars. We are your farthest-reaching partner in the rail industry. 
The INPS Railcar Remarking Crew is ready to go, and can travel to any point in North America to update your railcars, including: 
decal removal and application
color matching
decal and reflective tape application
paint and stencil applications
INPS' mobile crew offers mobile reprogramming or replacement of Automatic Equipment Identification (AEI) tags for railcar applications.
When if comes to reflectorization of railcars, INPS Rail is your solution for replacement of non-compliant conspicuity.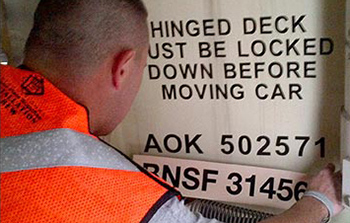 Remarking Services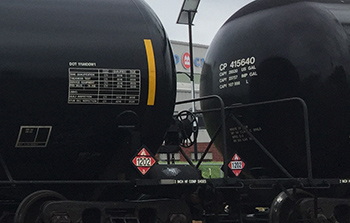 AEI Services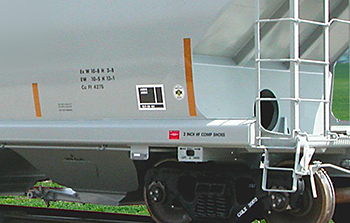 Conspicuity Services
Take advantage of INPS Rail's international reach and reputation with corporate railcar graphics produced and installed by our experienced mobile team. State-of-the-art technology allows INPS Rail to produce logos and graphics of all sizes, in any colour.
Comprehensive railcar decal kits customized for any rail application, individually packaged and numbered for each railcar.  
Rapid delivery of railcar brake plates by North America's most reliable producer and supplier. INPS Rail can provide next-day shipping , eliminating railcar idle time.
Since 1966 INPS Rail has been providing railcar solutions, fully compliant with Association of American Railroads (AAR). Whether you require remarking, graphics, or a complete retrofit, INPS Rail will be a key member of your team.