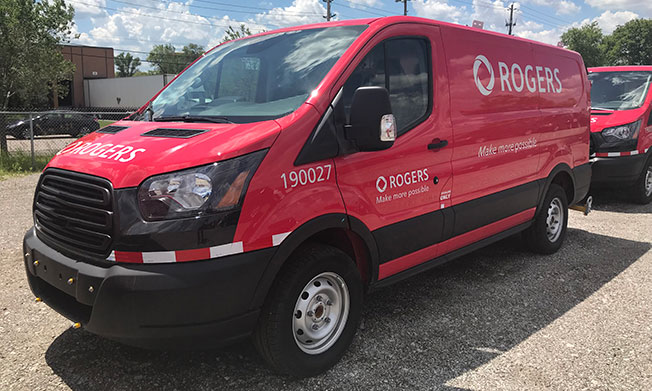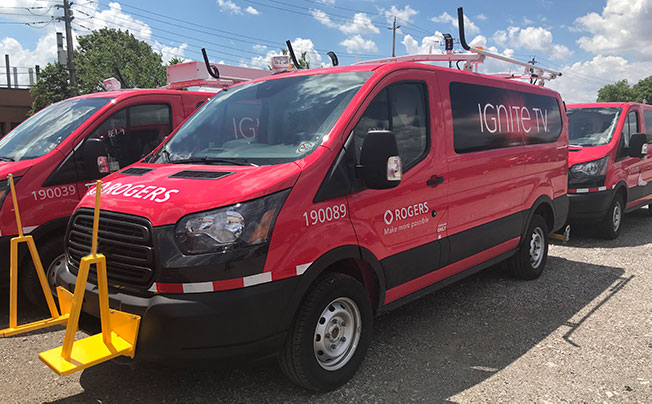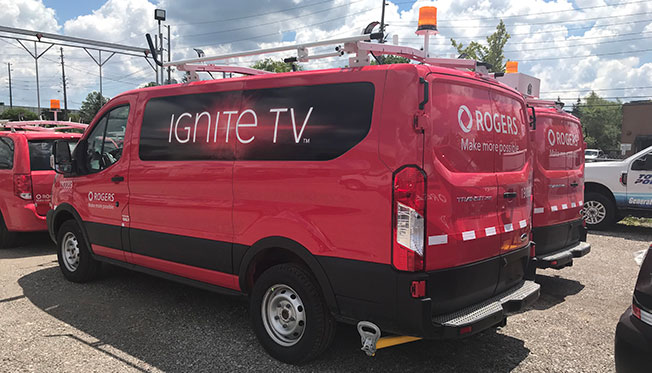 Rogers Communication
Vinyl Reflective Lettering & Full Color Interchangeable Graphics
Project Overview:
Rogers Communication wanted to target specific products and Services with their National Rebrand Program. INPS Graphics partnered with Rogers Communication on their National Rebrand of their Transit 250 Cargo Van and Dodge Promaster Cities. This included: project management, graphics removal, manufacturing new graphics and installation of over three hundred vehicles across Canada.
Challenge:
Modular Re-branding Program – the customer wanted graphics to be changed when programs changed.
Finding installers across Canada to fulfill the national scope of the project.
Solution:
INPS Graphics met with Rogers Communication to discuss the best areas to apply and remove graphics on their fleets. To allow for rebranding in the future, a removable modular vinyl was utilized for certain sections. INPS manufactures in our central plant in London, Ontario. For installations completed outside our territory, INPS partnered with 3M approved installers. 3M approved installers, ensure a high level of installation, consistency and allow 3M MSC warranty to be maintained across Canada.
Project Details:
Location: National, across Canada
Scope of Project:
Project Management
Digitally Printing
Vinyl Cutting
3M IJ180 Film
3M 8528 Overlaminate with UV Inhibitors
Digitally Printed Advertising Content
Reflective Vinyl Lettering
Safety Decals (First Aid, No Smoking,
No Vaping, Circle Check, Fire Extinguisher)
Installation